"We all drink Irn Bru and support Andy Murray. We're all Scottish. The idea is to bring Scotland together with the things we have in common, rather than highlight our differences."
Amjid Bashir is a Muslim businessman from Glasgow and is one of hundreds of volunteers behind this year's Islam Awareness Week (IAW.)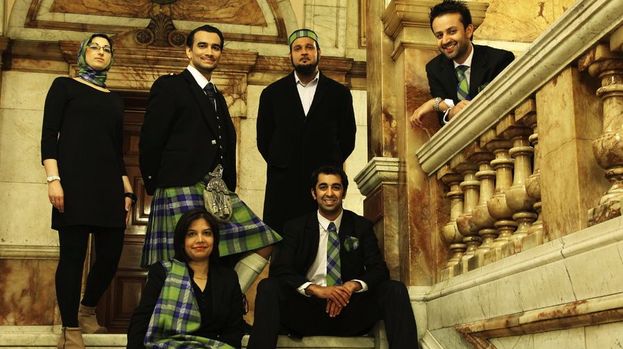 Taking time from his busy job as co-owner of the city's Newsbox newsagents, Amjid and fellow members of the Muslim community are doing their utmost to break down negative images of Islam and welcome non-Muslims to learn about their religion.
"The whole idea is that much like Glasgow City Council has their 'Open Doors' for a week, where they open their doors for the public to have a look around, it's similar to that," said Amjid of IAW.
"In recent years Islam has had a bad image in the media in general and this is a way to readdress that."
From March 11 to 17, IAW gives Glasgow the chance to gain a deeper understanding of Islam and celebrate Scots identity.
This year's theme is 'Things We Have In Common – Scottish Islam' and sees the largest collaboration between Muslims and non-Muslims in the event's history.
Volunteers have arranged events with non-Muslim organisations to discuss what issues affect Muslim and non-Muslim families, in order to highlight the problems that every household has in common, regardless of its faith.
"Everyone involved has given up a lot of their time to give back to their community," said Amjid.
"Doctors, taxi drivers, teachers are all involved and the age group varies. There's an 11-year-old girl doing something for the launch, and in one meeting the guy sitting next to me was 70.
"The beauty of it is that people get to work with each other and get involved."
IAW Activities include the exploration of art, photography and social issues relating to Islamic culture. A special Islamic tartan, recently modelled in London by prominent Scottish Muslim MSP Humza Yousaf, will also be showcased throughout IAW.
Groups of school children are invited to receive tours of the Central Mosque and pre-school children are able to attend an arts and crafts session at the Scotland Street Museum.
"Glasgow Muslims have a strong Muslim identity, but also a strong Scottish identity," said Amjid.
"We're Muslim and we're Scottish. The Scots identity is very strong and Muslims are very proud of that.
"Young people are proud to be Scottish, and I'm proud that they're proud to be Scottish."
The Islamic Society of Britain founded Islam Awareness Week in 1994, to contradict misconceptions surrounding Britain's second largest faith group.
Scotland has its own version, run across Glasgow, Inverness and Edinburgh, that's tailor made especially for Scots.
Speaking on inter-faith relations in his home city, Amjid said: "Glasgow is better than most cities, but a lot more interaction has to happen.
"Sometimes there's a very negative image of Islam, but things like this tell you what Islam is all about.
"Through initiatives like this we can make things better."
The week of events will culminate in a highly anticipated gala dinner and hijab fashion show.
'Rocking on Heaven's Door: From Gok Wan to Islam', held at The River Palace Banqueting Hall on Saturday 16, will showcase a variety of stunning hijab styles, highlighting the booming fashion industry behind Muslim clothing.
The gala dinner, entitled 'Weaving the Tartan – Celebrating Scottish Islam', welcomes members of the public and the Muslim community to come together for a three-course meal, a tour of Glasgow Central Mosque and an open discussion about Islam.
"Ordinary people from all walks of life sit together and dispel myths about Islam," said Amjid of the gala dinner.
"It's a good way of letting their hair down and getting to know each other."
Those interested in attending the gala dinner on Friday, March 15, must register via the IAW event site.
MUSLIM parents are hoping to raise more than £300,000 to buy a disused former Glasgow primary and turn it into a private school for their youngsters.
The school, based in the former Holmlea Primary building in Cathcart, would have separate entrances and facilities for boys and girls if a fundraising appeal is successful.
The school would offer a range of secular subjects, as well as Arabic and Islamic sciences.
The bid is being led by parents and professionals concerned about the environment in Scottish schools.
Glasgow Community Education Association (GCEA), which is behind the project, claims attending mainstream schools is resulting in "unsocial behaviour" among Muslim youngsters and that the lack of Islamic schools is forcing Muslim families out of Glasgow.
On a website set up to raise money for the project, the association says: "There is a huge demand in the community for a high-standard local facility providing good secular education together with moral guidance in order to produce well-balanced upright individuals."
Some previous attempts to establish Muslim schools in Scotland have been unsuccessful. Both the Iqra Academy in Glasgow and the Imam Muhammad Zakariya School for girls in Dundee closed after receiving negative inspection reports.
The Iqra Academy, which shut in 2003, was criticised by inspectors for giving pupils no opportunity to mix with the local community and for its treatment of girls at the school.
However, more recently the Qalam Academy has been set up in Glasgow, an independent Islamic Educational Institute providing primary education.
Hanzala Malik, Glasgow MSP, disputed the need for a Muslim school.
He said he was a firm believer in public education and urged those behind the school to redirect their energy into improving mainstream provision.
He added: "When children leave school they are all going to have to live in the same world."
Holmlea Primary in Cathcart was declared surplus by Glasgow City Council in 2006 and put up for sale. Six bids were made for it last year, with the GCEA putting in the highest offer.
It describes itself as an organisation formed by "local professionals and parents" to establish a private educational facility for Muslim children. The GCEA envisages it as catering for pre-school to secondary pupils.
The purchase of the school will cost £225,000, exclusive of VAT, and further funds will be required for refurbishment. The GCEA is currently trying to raise the money it needs online.
Andrew Denholm – http://www.heraldscotland.com